Here at HomeHeart our team of compassionate vets want you to know we understand your questions and concerns. We have all been in your position. We have all asked ourselves the same questions and felt the same doubts and pain.
Our mission is for you to not go through this alone or feeling unsure about your decision. We want to support and help you. All of our veterinarians have been selected for their level of compassion and expertise in this field of euthanasia; we are confident you couldn't be in safer hands. We know each other well and trust that each vet is unique to being the home euthanasia specialist required at a time so difficult.
If you want to talk to us we are here for you. We have the time and knowledge to discuss your concerns. Compassion and understanding are at our core. Let us know what you need.
Dr. David Birse
Co-Founder
Dr. David was born in Scotland but grew up in Germany and Dubai. His entire life he has felt an affinity to animals. Having a grandfather who was blind and seeing the powerful impact his guide dog made in his life was extremely impactful to David in his formative years; he always had the idea of becoming a vet in mind.
David attended the Royal Dick School of Veterinary studies in Edinburgh, also David has travelled and volunteered with animal related charities. He spent time spaying and neutering stray dogs and cats in both Mexico and Thailand. David has also spent 7 years in small animal general practice and in leadership roles within veterinary medicine. During this time he has grown to appreciate the importance of end of life care both for Pets and their guardians.
The bonds we form with our pets are extremely strong and guiding people through process of euthanasia is a responsibility he takes very seriously. He knows one day his cat will require the same service and wants his last day to be spent in the peace and comfort of his own home. I know many people like yourself feel the same way.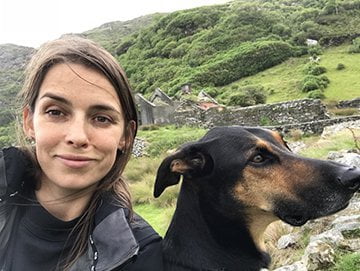 Dr. Sam grew up in England in the countryside. Her nana taught her the beauty of loving animals and encouraged her to spend time helping however she could. Dr. Sam has always been passionate about horses and has made the most of every chance to interact and care for them. Every chance she could get she would volunteer and learn how to care for all different species.
She attended St George's University in the Carribean and then completed clinical rotation year at Edinburgh University. She helped spay and neuter efforts during university and has volunteered and worked with non profits since. Shelter euthanasia from over crowding really distresses her, so any action to help reduce this is dear to her heart.
Since graduating in 2009 she has worked in an emergency hospital, regular day practice, spay and neuter clinics and providing in home end of life care. It is an honor to help people say goodbye to their loved family member pet at home. Being able to help pets pass peacefully at home is so important to her, her aim is to give these beautiful creatures gentleness and ease when their life has become difficult. She has had to say goodbye to her own pets as the time has come and knows the pain involved with letting go a loved one. She is here to help and support you in any way she can provide comfort.
Dr. Lisa Steinberg graduated from Cornell University School of Veterinary Medicine in 1997. For over 21 years following graduation, she has practiced veterinary medicine and surgery in central NJ, including 3 years of experience as a general practitioner in an emergency and specialty referral setting, as well as over 7 years of experience helping owners by managing her patients in their homes. Dr. Steinberg has recognized over time how peaceful departures in the home environment can help people and their pets so much, and gets great peace from alleviating animal suffering and solidifying the human- animal bond. Dr. Steinberg and her family share their home with their dog Rosie, cats Harry and Luna, and goldfish Tom and Jerry.
Dr. Irons is a native of the beautiful island of Jamaica. After graduating high school, she attended the University of Maryland Eastern Shore where she graduated Magna Cum Laude. She then went on to follow her dreams of becoming a Doctor of Veterinary Medicine (DVM) and attended Tuskegee University School of Veterinary Medicine where she graduated Cum Laude.
Since graduating, she has worked in NJ and NYC as a General Practicer and relief Veterinarian. Her main interests include Surgery and Internal Medicine and takes pride in practicing high quality medicine while ensuring that her patients maintain their quality of life.
Her hobbies include enjoying the outdoors, working out, and spending time with friends and family. When visiting her friends and family in Jamaica, Dr. Irons also donates her time to the Jamaica Society for the Prevention of Cruelty to Animals (JSPCA).
She currently has a cat, Bella, who is the apple of her eye. She has been with her throughout vet school, numerous externships and throughout her career thus far. On her time off, she enjoy traveling, being outdoors, and doing something adventurous!
Dr Lisa has always been passionate about animals. She has been a house call vet for many years and enjoys helping and treating animals in their relaxed home setting. Dr. Lisa hopes to ease the sadness of pet parents in their moment of sorrow.
Dr Lisa lives in Bayonne with her family and two cats.
Krystal was born and raised in Queens, NY and has been in the veterinary field since 2005. She has always had a love for animals since elementary school and is grateful for having a job that she loves and enjoys. Being able to help pets and their owners with care and compassion is very rewarding. When she isn't working, she likes to travel the world, eat a variety of good food, and make time for family and friends.
Steve has been in the veterinary field since 2008 working at different animal hospitals. Currently residing in the Bronx with his wife and 2 dogs, Bowser and Bella, he likes to spend his time being outdoors when possible. When not working Steve pet sits for people when they go on vacation.